According to Decision No. 11/2023/QD-VINASA dated February 8, 2023, the Executive Board of VINASA has recognized Sicix Technology Joint Stock Company as an Official Member of Vietnam Software & IT Services Association. 
It is an honor when SiciX is one of the first member enterprises to launch VINASA in February 2023. This is considered an important milestone for SiciX, joining the VINASA Software and IT Services Association will open up many new opportunities for SiciX.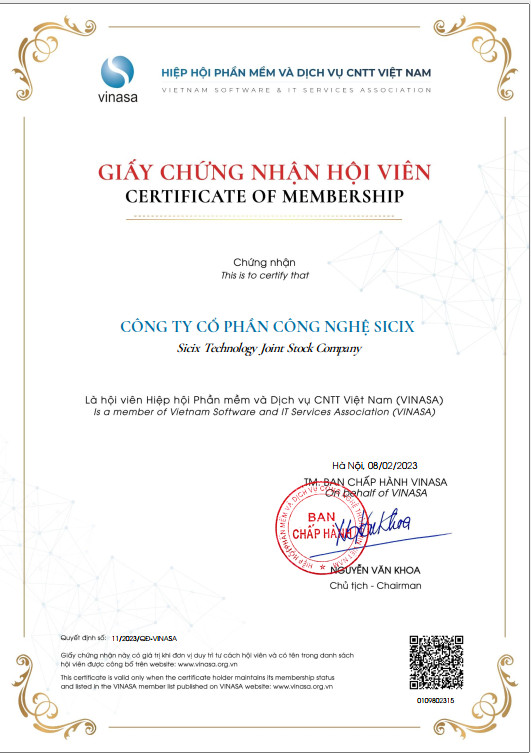 Also on this occasion, VINASA respectfully gave congratulations and announced the joining of SiciX Technology Joint Stock Company on the Association's official website. On VINASA's news feed this morning, with a quick glance, you can immediately see the SiciX logo with striking colors displayed on the homepage like a shining star.
http://www.vinasa.org.vn/vinasa/4/3076/4212/18029/Tin-Hoi-vien/Chuc-mung-Cong-ty-CP-Cong-nghe-SICIX-tro-thanh-Hoi- VINASA.aspx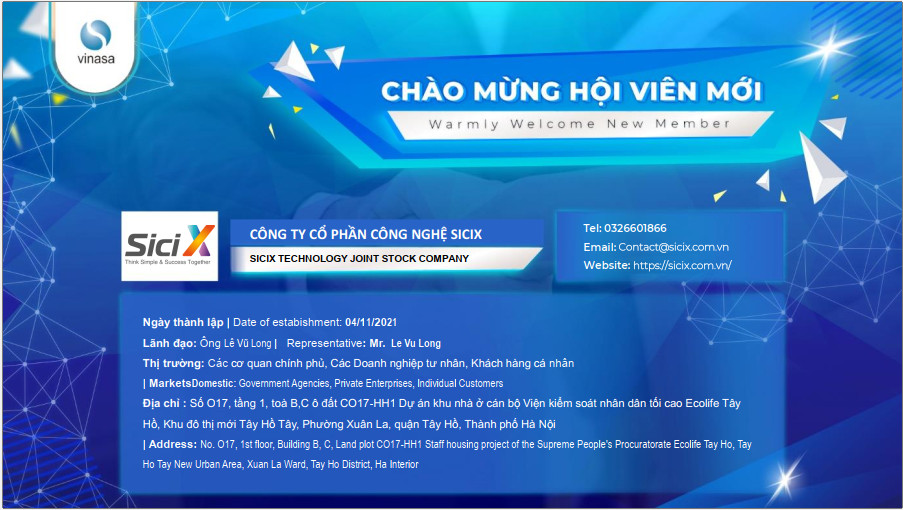 When becoming a member of VINASA, SiciX will have the following specific benefits in many activities:
Free (for 01 representative) to attend all programs and activities organized by VINASA such as Policy Forums, Summits, Symposiums, information and experience sharing sessions between associations tablets….;

Direct incentives with communication packages, image promotion exclusively for MEMBERS at each program of activities organized by VINASA (in the form of sponsorship, speech, booth participation, participation in the meeting). Connecting supply and demand, participating in sharing as an expert…

To participate in trade promotion groups with support from the State/Organization up to 50% depending on specific programs (expenses such as exhibition booths, flight tickets, hotels, etc.)

To participate in product/business promotion activities such as participating in the TOP 10 Vietnam IT Enterprises Program; Sao Khue Award; Roadshow introduces products in the domestic market/localities organized by VINASA or programs to promote foreign market expansion (such as survey visits in the US, Germany, UK, Spain, Australia, Taiwan, etc.) Loan, Korea);

To directly participate in activities of connecting businesses, meeting partners… at major events of VINASA or information sharing sessions organized or coordinated by VINASA;

Participating in member/industry information sharing activities;

Support from 10-50% when participating in the VINASA connection program (when participating in training courses, buying airline tickets, stationery or office equipment, electronics, etc.)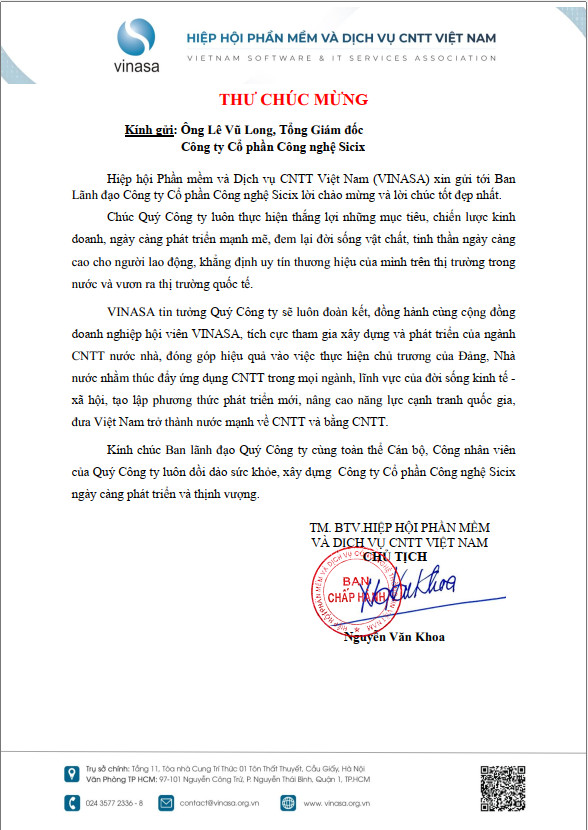 Today's milestone is a good sign, starting for SiciX on the way of gradually building and affirming its position and brand in the domestic and international technology market.
May SiciX always be a creative team, passionate about science and passionate about production, bringing a lot of value to the information technology industry and the country, sustainable development and prosperity!
play youtube
,
play youtube
,
xvideos
,
xnxx
,
xvideos
,
porn
,
xnxx
,
xxx
,
Phim sex
,
tiktok download
,
MÚSIC MP3
,
sex
,
Chopped Hazelnuts
,
phim xxx
,
hot sex
,
mbbg
,
As panteras
,
Hentai anal
,
Mexico Cancun Temperature
,
porn
,
American porn
,
free brazzer
,
jav
,
hentai-gay
,
Hentai 3d
,
Porn vido vn
,
hentai
,
black horny old man eat pussy
,
Hentai Sex
,
brazzers brasil xxx brasileira
,
Lavazza Instant Coffee
,
tru kait
,
Xem Phim Sex
,
sex viet
,
mp3play
,
Panthers Georgia
,
Bump Keys
,
Mp3 Download
,
sexlog
,
save tik
,
American porn
,
German Open
,
free porn xx
,
sex mex
,
mc mirella pelada
,
Porn vido Br
,
American porn
,
Espn 49ers
,
Ratify Treaties
,
free fuck
,
Rita Lee
,
Argentine Vs Maroc
,
phim xxx
,
save tiktok
,