The potential of applying AI, IoT or blockchain in agriculture is endless to help increase production as well as production profits
The increasingly popular application of blockchain technology, drones, robots, IoT, AI and big data to improve crop and livestock productivity and product distribution is disrupting traditional production and push farmers out of the game.
Fierce race
Over the years, humanity has witnessed the participation of many giant corporations that have deployed the application of these new technologies in pilot projects in many countries, both rich and poor, from the US and New Zealand. to India and Kenya and showed unexpected results.
This trend is said to be the "right falling point" as the global population continues to increase in the context that climate change, sea level rise and the natural environment are major challenges in almost every country because the Applying new technologies will help save less than half the amount of water needed for plants as well as countless other utilities.
Not only that, IoT (internet of things), AI (artificial intelligence), drone-robot (drone-robot) and blockchain (block chain)… also open up many new opportunities to help children. who build a smarter and more convenient world. It has quickly realized the whole subject that was once considered science fiction when "helping" a farmer who just sits at a distance from afar to be able to irrigate, fertilize, harvest and… sell goods. a field as large as a smartphone. And this is only a small part of the potential of IoT, AI, robots and drones in the near future.
The term IoT was coined by Kevin Ashton in 1999 to optimize the supply chain at the American multinational consumer goods corporation Procter & Gamble. His aim was initially to draw attention to a new technology, radio frequency identification (RFID), as a way to create a wireless network of products. And so far, IoT has developed into many different ecosystems and is widely applied and interacted in many areas of life…
It is estimated that the number of IoT devices applied to life will exceed 75 billion by 2025, an increase of 400% compared to 2015, or 20% per year. The main reasons for this prediction are new technology for rapid growth due to lower operating costs, higher efficiency and productivity, better ability to expand markets and develop new products…
This is evidenced by the high profitability of investment in IoT projects, estimated to reach 6 trillion USD in 2020 and the expected return rate to reach 13 trillion USD.
Traditional threat intelligence
IoT and AI in agriculture are now ubiquitous in smart farming by applying highly automated and connected devices to improve nearly every aspect of traditional methods. Human power and horse power (i.e. fuel-powered plows, tractors, and harvesters) will soon be replaced by the generation of autonomous vehicles and virtual reality in the field.
In livestock production, by using different types of smart devices, farmers now have better control over chicken, pig or dairy farms in a closed cycle. They even help owners make more accurate predictions and calculate the most optimal economic performance possible.
According to calculations by AgriTech, the size of the global smart farming market is expected to triple by 2025, reaching $15.3 billion, compared with more than $5 billion in 2016.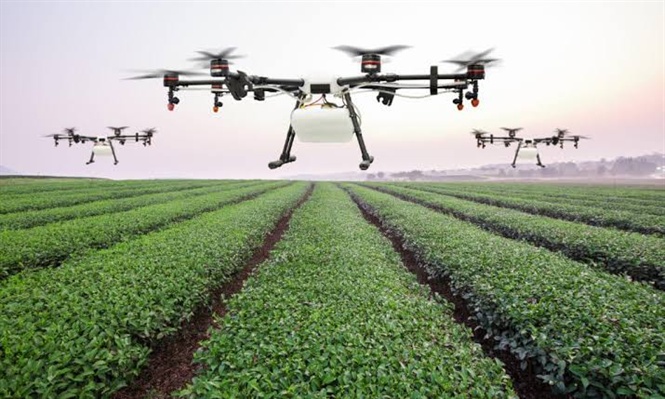 The use of drones to fertilize and spray on fields is not new.
The secret to strong growth is innovative technologies that have the potential to transform agriculture in many ways. Specifically, a huge amount of data will be collected by smart sensors such as weather conditions, soil quality, growth rate of crops or health of livestock…
All will be integrated end-to-end and can be used to monitor the entire health of the production line, including the performance of staff and equipment. Having better control over these internal processes reduces production risks and gives us visibility into results right from project planning to product delivery. Once you know exactly how many crops are ahead of you, you can be sure that your produce won't pile up as it won't sell.
The next is to minimize management costs as well as waste volume thanks to good control right from the beginning of production. Thanks to technology, we can see any abnormalities in the growth of plants or animals to proactively control the risk of yield loss.
The use of smart devices will help increase business efficiency by automating many stages throughout the production cycle, such as irrigation, fertilization or pest control. As a result, all of the factors mentioned above lead to higher sales.
Typical applications of agricultural IoT devices that have made many impressions in the past time include allMETEO, Smart Elements, and Pycno. Accordingly, in addition to detecting environmental data sources, weather stations can also automatically adjust conditions to match the parameters given to plants in the greenhouse automation system.
Or GreenIQ is also an interesting product that uses smart agricultural sensors, allowing us to manage irrigation and lighting systems remotely. IoT sensor systems called SCR by Allflex and Cowlar can also be attached to farm animals to monitor their health, nutrition and performance. And then there's the end-to-end farm management system like FarmLogs and Cropio that can analyze and report business activities even when you're not at the production site…
According to Agriculture newspaper
https://nongnghiep.vn/thoi-cua-iot-ai-va-blockchain-do-bo-vao-nong-nghiep-d255100.html .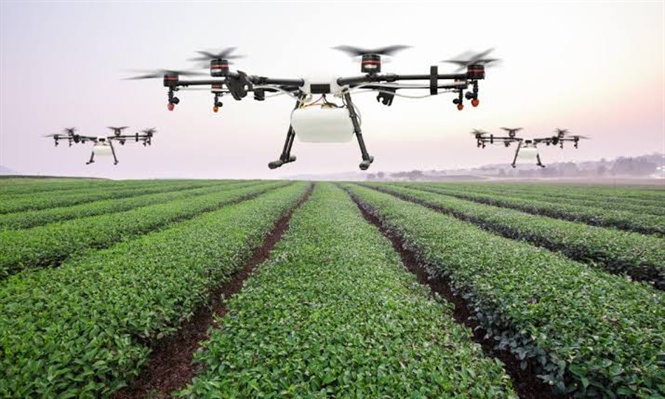 Việc sử dụng máy bay không người lái để bón phân và phun thuốc trên đồng ruộng đã không còn xa lạ.
Bí quyết tăng trưởng mạnh chính là các loại hình công nghệ tiên tiến có tiềm năng làm chuyển đổi nông nghiệp trên nhiều khía cạnh. Cụ thể là khối lượng dữ liệu khổng lồ sẽ được thu thập bởi các cảm biến thông minh như điều kiện thời tiết, chất lượng đất, tốc độ sinh trưởng của cây trồng hoặc sức khỏe của vật nuôi…
Tất cả sẽ được tích hợp từ đầu đến cuối và có thể được sử dụng để theo dõi toàn bộ tình trạng hoạt động của dây chuyền sản xuất, kể cả hiệu suất của đội ngũ nhân viên lẫn thiết bị. Việc kiểm soát tốt hơn các quy trình nội bộ này sẽ khiến rủi ro trong sản xuất thấp hơn cũng như giúp chúng ta có thể nhìn thấy trước được kết quả ngay từ khi lập kế hoạch dự án đến phân phối sản phẩm. Một khi bạn đã biết chính xác có bao nhiêu vụ mùa sẽ thu hoạch ở phía trước thì bạn cũng có thể chắc chắn rằng, sản phẩm của bạn làm ra sẽ không thể chất đống do không bán được.
Tiếp theo là giảm thiểu được tối đa chi phí quản lý cũng như khối lượng chất thải nhờ vào sự kiểm soát tốt ngay từ ở khâu đầu vào sản xuất. Nhờ công nghệ, chúng ta có thể thấy được bất kỳ sự bất thường nào trong quá trình sinh trưởng cây trồng hoặc vật nuôi để chủ động kiểm soát rủi ro gây mất năng suất.
Việc sử dụng các thiết bị thông minh sẽ giúp tăng hiệu quả kinh doanh nhờ quá trình tự động hóa ở nhiều khâu trong suốt chu kỳ sản xuất, ví dụ như tưới tiêu, bón phân hoặc kiểm soát dịch hại. Kết quả là, tất cả các yếu tố nêu trên đều dẫn đến doanh thu cao hơn.
Những ứng dụng các thiết bị IoT nông nghiệp tiêu biểu thời gian qua đem lại nhiều dấu ấn bao gồm allMETEO, Smart Elements và Pycno. Theo đó, ngoài việc dò tìm nguồn dữ liệu môi trường, các trạm thời tiết còn có thể tự động điều chỉnh các điều kiện để phù hợp với các thông số đưa ra cho cây trồng trong hệ thống tự động hóa nhà kính.
Hoặc GreenIQ cũng là một sản phẩm thú vị sử dụng cảm biến nông nghiệp thông minh, cho phép chúng ta quản lý hệ thống tưới tiêu và chiếu sáng từ xa. Hệ thống cảm biến IoT mang tên SCR by Allflex và Cowlar cũng có thể được gắn vào con vật nuôi trong trang trại để theo dõi sức khỏe, chế độ dinh dưỡng và hiệu suất của chúng. Và sau nữa phải kể đến hệ thống quản lý trang trại đầu cuối như FarmLogs và Cropio có khả năng phân tích và báo cáo hoạt động kinh doanh ngay khi bạn không có mặt ở nơi sản xuất…
Theo báo Nông nghiệp
https://nongnghiep.vn/thoi-cua-iot-ai-va-blockchain-do-bo-vao-nong-nghiep-d255100.html.
play youtube
,
play youtube
,
xvideos
,
xnxx
,
xvideos
,
porn
,
xnxx
,
xxx
,
Phim sex
,
tiktok download
,
MÚSIC MP3
,
sex
,
Chopped Hazelnuts
,
phim xxx
,
hot sex
,
mbbg
,
As panteras
,
Hentai anal
,
Mexico Cancun Temperature
,
porn
,
American porn
,
free brazzer
,
jav
,
hentai-gay
,
Hentai 3d
,
Porn vido vn
,
hentai
,
black horny old man eat pussy
,
Hentai Sex
,
brazzers brasil xxx brasileira
,
Lavazza Instant Coffee
,
tru kait
,
Xem Phim Sex
,
sex viet
,
mp3play
,
Panthers Georgia
,
Bump Keys
,
Mp3 Download
,
sexlog
,
save tik
,
American porn
,
German Open
,
free porn xx
,
sex mex
,
mc mirella pelada
,
Porn vido Br
,
American porn
,
Espn 49ers
,
Ratify Treaties
,
free fuck
,
Rita Lee
,
Argentine Vs Maroc
,
phim xxx
,
save tiktok
,