In the era of mobile devices that are developing strongly and dramatically, App Mobile is no longer strange to users. To be able to reach more customers, owning a Mobile App for a business  is extremely necessary, especially the Mobile App design needs to be close, convenient and attractive to customers. 
To own a standard version of Mobile App UI/UX, design professionals and businesses need to firmly grasp some important golden rules below: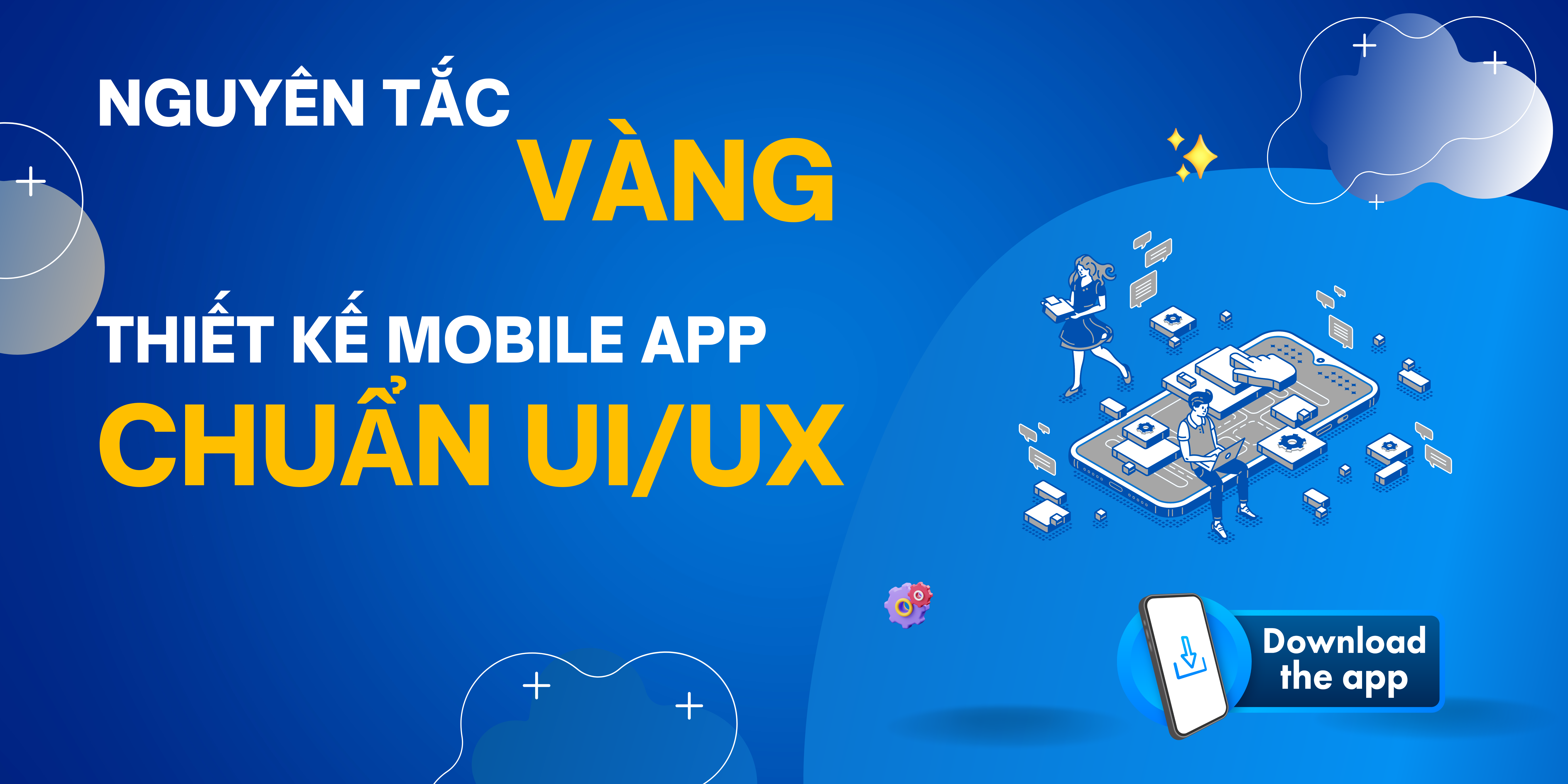 1. Understanding user psychology
Understanding and analyzing user psychology is the first step that businesses need to determine to initially create a good mobile app. To capture user sentiment, businesses need to conduct market research using form questions that look for the latest research data from experts, or more intuitively, bring a trial to market. field for users to experience and provide opinions. This will bring the most optimal and objective efficiency, helping to ensure that the product you design meets the tastes of consumers.
2. Simplify information content
Users usually do not spend too much time reviewing research on a certain content. Therefore, we must take advantage of that little time to also provide customers with accurate, useful and complete information. The information needs to be kept simple, but it still has to be full of necessary content that will help businesses score points with customers. 
3. Familiarity
Familiarity will make it easier for users to use. With newly released mobile apps, the basic features that are followed by this rule will be easier to score in the eyes of users and retain customers longer. They'll like your app to work the same way as all the apps they've ever used, instead of having to learn and adapt to other complicated, hard-to-remember interactions.
4. Decentralization
Intuitive hierarchy will lead to a successful user interface. It involves arranging design elements by importance and thereby guiding the user to take the desired action. These factors are usually:
Hierarchy expressed in functions and information makes it easy for users to control page navigation and find their goals quickly and easily.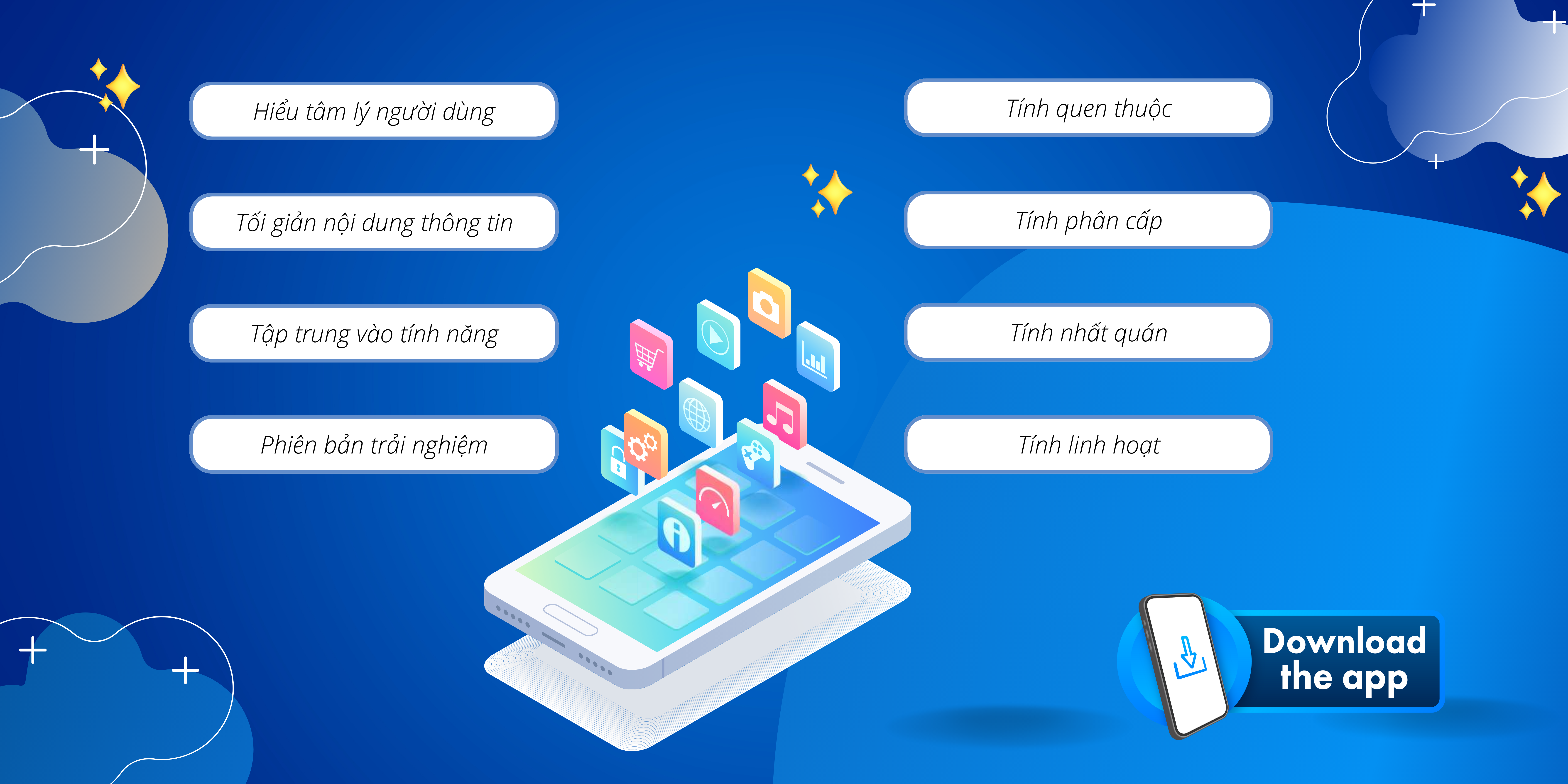 5. Focus on features
If the application has a high aesthetic, visitors pay more attention to the feature because it can solve their research, consulting, shopping, … To design a mobile app with effective UI and UX standards, businesses should focus on the necessary features of the website.
6. Build experience versions
Businesses need to bring the beta to the market to test it out to get user reviews. Based on these evaluations, enterprises make corrections to improve product quality accordingly.
This helps to recognize product weaknesses and user trends, thereby attracting more demanding customers.
7. Consistency
Design and functionality will be consistent across all pages. At the same time, the positions, buttons or menu system need to be "circulated" conveniently to provide the most synchronous experience. Users may implicitly assume that your app will work the way they think is right. This will make it easier for users to navigate your page, and the experience will be even more seamless.
8. Flexibility
Your application needs to be flexible and effective for all audiences. This helps to increase productivity, speed up the operation of the app. Some examples of flexible user interface designs include:
Shortcuts to perform commonly used steps with just one click. 

Advanced search features. 

Incorporating information filters. 

Experience platform (laptop, tablet, old desktop, …) 
Thus, in order to build and design a complete mobile application, the UI/UX standard Mobile App needs to ensure a lot of criteria and principles. If your business is in need of designing its own branded Mobile App, let SiciX's team of experienced design experts support and accompany you.
SiciX Technology – A unit specializing in the design of Mobile App solutions on both iOS and Android platforms with thousands of beautiful interface warehouses for many fields and industries.
——————— 
See more information at: 
Website: https://sicix.com.vn/thiet-ke-ung-dung-di-dong/ 
Hotline: 0326 601 866 
play youtube
,
play youtube
,
xvideos
,
xnxx
,
xvideos
,
porn
,
xnxx
,
xxx
,
Phim sex
,
tiktok download
,
MÚSIC MP3
,
sex
,
Chopped Hazelnuts
,
phim xxx
,
hot sex
,
mbbg
,
As panteras
,
Hentai anal
,
Mexico Cancun Temperature
,
porn
,
American porn
,
free brazzer
,
jav
,
hentai-gay
,
Hentai 3d
,
Porn vido vn
,
hentai
,
black horny old man eat pussy
,
Hentai Sex
,
brazzers brasil xxx brasileira
,
Lavazza Instant Coffee
,
tru kait
,
Xem Phim Sex
,
sex viet
,
mp3play
,
Panthers Georgia
,
Bump Keys
,
Mp3 Download
,
sexlog
,
save tik
,
American porn
,
German Open
,
free porn xx
,
sex mex
,
mc mirella pelada
,
Porn vido Br
,
American porn
,
Espn 49ers
,
Ratify Treaties
,
free fuck
,
Rita Lee
,
Argentine Vs Maroc
,
phim xxx
,
save tiktok
,